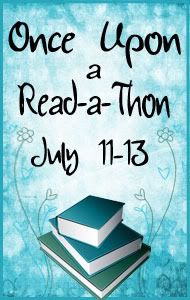 Today I'm hosting a mini-challenge and giveaway as part of the Once Upon a Read-a-Thon! I got this idea from
a contest Kiersten White hosted
a few weeks ago that I thought was a lot of fun.
Your challenge, if you choose to accept it:
Pick any book from your readathon pile and write a fake synopsis based solely on the cover. The synopsis does not have to be related to the actual book at all, just the pretty, pretty cover.
Here's an example (my entry to the Kiersten White contest -- yes, I know it's silly. It was supposed to be!):
When Dorothy's daughter, Dorothea, wakes up in the infamous Poppy field that put her mother to sleep decades ago, she thinks it's all a weird dream. But when a strange woman in a puffy pink prom dress comes to her claiming to be Glenda the Good Witch, she knows she's hopped up on poppy-opium, the dangerous substance that makes the world look red and induces bouts of narcolepsy. After waking up (again), Dorothea knows she must find her way out of the poppy labyrinth before she blows away in the subtle wind, or gets struck by lightning -- and melts.
Post your book cover and fake synopsis on your blog or Facebook, then leave a direct link in the comments along with your email address.
One randomly chosen participant will win an ARC of Beauty Queens by Libba Bray, a chapter sampler of The Death Cure by James Dashner (due for release October 11, 2011) and some swag I have from BEA!
You MUST be participating in the readathon to win!
Ends 7/13/11 at 11:59 pm EST (when the readathon ends)
Good luck! I can't wait to read your entries!