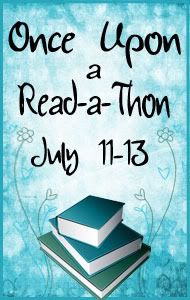 Well, today was rather unproductive. I stayed up way too late last night finishing
Shattered Souls by Mary Lindsey
, so it took me a while to get moving this morning -- then I got caught up in all the excitement of the
Julie Kagawa Livestream
. I still had a blast in the readathon, and I might have my own personal readathon for the rest of the week since I'm in the spirit ;)
Books Read:
I read half of
The Iron Knight by Julie Kagawa
today, and I'll probably stay up late again finishing it. I know it wasn't on my list, but it just hit NetGalley today and I almost hyperventilated.
Mini-Challenges:
Wicked Awesome Books
asked us to play matchmaker with two characters from different books.
I think I would like to pair...
+
They're both kind of wild and world-weary and a little bit broken, and neither of them would hesitate to give the other a kick in the butt when it was called for.
1.
Any book:
Chime by Franny Billingsley
. You will never read another book like this one. It practically breathes magic and mystery and incredible language. Beautiful.
2.
Favorite from the readathon:
OMG THAT IS SO HARD.
Forever by Maggie Stiefvater
or
The Iron Knight
by Julie Kagawa...
Forever
or
Iron Knight
....Maggie or Julie....BUT I LOVE THEM BOTH SO MUCH! I guess, since I haven't finished
The Iron Knight
yet, I will go with
Forever
by Maggie Stiefvater. But really, you should read them both.
A HUGE thank you to the ladies at Pure Imagination, Reading Angel and Candace's Book Blog for hosting this awesome readathon and inviting me to host a mini-challenge. It's been a blast!