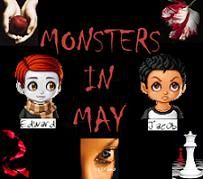 (Giveaway details are at the end of the post!)
Bella Swan expects her typical teenage life to become even more average when she moves to the rainy small town of Forks, Washington to live with her dad. All that changes, though, on her first day at Forks High when she spies the pale and graceful Cullens across the cafeteria. Bella is drawn to the entire beautiful family, but especially to the youngest, Edward. However, her initial excitement upon discovering he is her lab partner quickly turns to fear when he levels a menacing glare at her as she takes her seat beside him. After an entire class of strained and inexplicable silence, Bella is relieved the next day when Edward doesn't appear at school. After a week, however, her curiosity is piqued and she can't help but wonder what happened to the bizarre, beautiful boy. When Edward finally returns, he is surprisingly civil, and Bella begins to wonder if she imagined the whole incident. After a near-death experience that she hopes will bring them closer actually has the opposite effect, though, Bella is once again left hurt and confused by Edward's Jekyll and Hyde behavior. After months of cold silence that Bella tries her best to ignore, Edward seems to experience yet another mood swing and is suddenly much more than polite to the bewildered heroine. As their odd relationship progresses, his cryptic comments and thinly veiled warnings leave Bella frustrated and determined to find answers. A fateful trip to a nearby reservation and a strange conversation with an old friend reveals the truth at last, but it's almost too bizarre to believe. However, Edward's unearthly speed and grace, as well as his apparent ability to read minds, don't leave much room for doubt and Bella is finally forced to accept the impossible truth – a truth that irreversibly splits her future into two distinct paths and leaves her to face a choice she never dreamed she would have to make. Unfortunately, that's only the beginning of Bella's problems; the average girl from Arizona soon finds herself caught up in a dark and dangerous world, trying to outrun forces that far surpass her mortal strength.
Stephenie Meyer
weaves a mesmerizing tale of dark romance in her debut novel,
Twilight
. While there are plenty of mysteries and an action-packed climax, the cast of characters transcends the plot itself. The unfathomable psychological motivations of the mystifying hero will leave readers puzzled, eagerly trying to unravel Edward's inscrutable thoughts. Bella is a completely relatable YA heroine - bookish, a bit of a loner, always feeling out of place. More than anything, it is this intense characterization that has won over millions of readers. The relationship that develops between Bella and Edward is as engaging as it is impossible, and their tightrope walk between destiny and disaster is captivating. This unusual story is charming and will deposit readers in the rainy green wilderness of Forks, right in the midst of the mystery and intrigue. While Meyer's writing style may not earn her a Pulitzer, her storytelling more than makes up the difference. The one-liners and quips sprinkled frequently throughout the novel keep the dark story from turning too horrific, making
Twilight
an entertaining and consuming read. As long as readers can handle a little cheesiness, they won't regret delving into this enchanting and exciting supernatural romance that has entranced millions and spawned an international phenomenon.
Rating:
Premise
: 4/5
Plot
: 3.5/5
Characters
: 5/5
Writing
: 3/5
Setting
: 4/5
Overall
: 3.9/5
This novel can be purchased here.
Go here for the Monsters in May details. If any other reviewers would like to participate, simply post a Twilight review, add the image and link back to this page on your blog, then let me know and I will link back to your review! (If a lot of people are interested, I'll probably add a Mr. Linky to simplify things.) Hopefully we can get some good Twilight discussions going!
-----------------------------------------------------------------
GIVEAWAY
***UPDATE! The Host Giveaway has been extended until midnight EST on May 24!***
Thanks to Hatchette Book Group, I will be giving away one copy of the
new edition
of
The Host by Stephenie Meyer
with
BONUS CHAPTERS
to one lucky reader! All you have to do to enter is
(1) Follow this blog using Google Friend Connect (left-hand sidebar) and (2) Comment on at least one Monsters in May Review!
You can also get extra entries by tweeting, etc. Just go to
THIS FORM
to enter! Go
here
to read the book description and an excerpt!
There will also be random small Twilight prize giveaways for commenters!
All you have to do is comment on a Monsters in May
review
post and you're automatically entered. Prizes may include
bookmarks
,
keychains
,
door hangers
,
posters
,
bumper stickers
, or
magnets
(it depends on what I can find - exact item cannot be guaranteed). Winners will be announced in a Monsters in May post and contacted immediately via email. They will have
48 hours
to reply with their shipping address or a new winner will be selected.
I will add ANOTHER BOOK (Monsters in May themed, of course) for every 100 new followers during this contest (from the current number of 128)
!
The contest will run from today (May 1) to May 24 at midnight EST.
I will be posting weekly, but I'll post my last review a little early to give people time to comment and enter. Winners will be selected using a randomizer. I will contact the winners immediately and they will have
48 hours
to respond with their shipping address or a new winner will be selected.
*The Bookish Type accepts no responsibility for lost or damaged books.
**Books added later in the contest will probably be from Book Depository, so winners will be limited to countries where this site ships. This does not apply to
The Host
, which is open
internationally
.
PS - Don't forget to enter my
111 Follower Giveaway
for a chance to win a
SIGNED
copy of
The Curse of Nefertiti
by Charline Ratcliff.